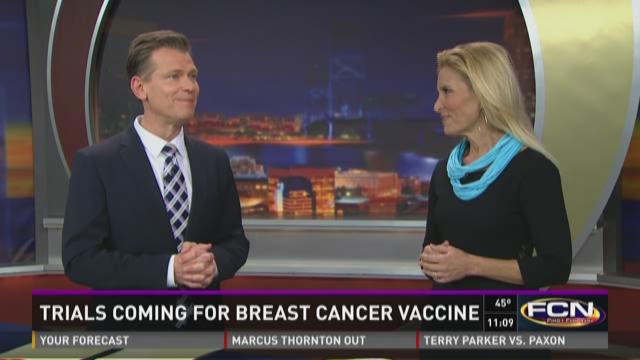 JACKSONVILLE, Fla. -- A major breakthrough could be coming for patients who suffer from a particularly aggressive type of breast cancer commonly referred to as "Triple Negative."
Researchers at the Mayo Clinic in Jacksonville are planning to do clinical trials for a vaccine that would hopefully prevent the disease from coming back after a patient has been treated.
"Can we do something else to essentially wake up the immune system so that the patient's own body fights any cancer cells remaining after standard chemotherapy treatment?" explains Dr. Edith Perez, breast cancer researcher at Mayo Clinic in Florida and co-leader of the triple negative vaccine trial .
Triple Negative (TNBC) strikes 15-20% of breast cancer patients. Unlike most forms of breast cancer, it's not fueled by estrogen and cannot be treated with estrogen blockers like Tamoxifen. Right now, the only treatment is chemotherapy and the disease, even when treated, is likely to come back and spread.
TNBC typically strikes younger patients than most other forms of breast cancer. It often occurs in women under 50. African-American and Hispanic women are also more likely to develop it as are women who have the BRCA1 gene mutations.
Former First Coast News anchor Donna Deegan is a three-time breast cancer survivor. She was diagnosed with TNBC at age 38.
"For women with triple negative breast cancer, if this works, it could be a game changer.", Deegan says.
Perez says that in the past, she was not optimistic about the chances for success of a breast cancer vaccine. However, that has now changed.
"Over the last year we spent quite a bit of time evaluating a protein that is called the folate receptor alpha protein. We studied it in a variety of tumor types here in the laboratory at Mayo and we identified that in approximately 80% of the cases of triple negative breast cancer, this protein was over-expressed." says Dr. Perez. "Patients who will be eligible are those patients with resected or removed triple negative breast cancer whose tumors express this protein."
Perez is one of the top breast cancer researchers in the world. She teamed with immunologist Dr. Keith Knutson to develop the vaccine. Knutson's research has worked on treatments for both ovarian and breast cancer. Patients who are part of the trial will be treated over a six month period.
Mayo Clinic researchers are collaborating with TapImmune, a Seattle-based immunotherapy company, to develop and test the vaccine.
Funding for this research comes from several sources, including the money raised on the First Coast through the Donna 26.2. Perez says it will take about $10 million to complete the vaccine clinical trial.
"I tell you, the marathon has been instrumental to all of this work we have done over the years. Because we didn't have a genomics program here at Mayo Clinic before the marathon started. So we used the funds to start the program.", Perez says.
This year's marathon is coming up on February 15.
Mayo Clinic officials say they hope to begin the clinical trials later this year and will put out information on how you can take part.
Anne Schindler, Executive Producer of Special Projects at First Coast News and Donna Deegan also contributed to this report.