JACKSONVILLE, Fla. -- The Donna Marathon is in its tenth year and to help celebrate First Coast News is teaming up with the City of Jacksonville to give supporters an opportunity to etch their names into history at Jacksonville Beach.
All supporters have an opportunity to etch their name into history in Oceanfront Park in Jacksonville Beach by purchasing a commemorative brick. Leave your legacy, and celebrate those impacted by breast cancer with your own personalized brick, and be sure to order a replica as a gift or memento to keep.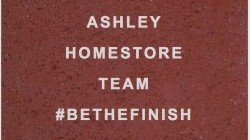 All proceeds benefit The Donna Foundation supporting groundbreaking breast cancer research and women living with breast cancer.
The first installation planned for the Spring of 2017.
Not sure what to put on your brick? Click here to test your inscription on a virtual brick.
Click here to purchase a brick.
Photos: DONNA 5K at THE PLAYERS 2016
The DONNA 5K kicks off THE PLAYERS week with pink power. #PinkOut4DONNA
The DONNA 5K kicks off THE PLAYERS week with pink power. #PinkOut4DONNA