1. Major Hurricane Matthew expected to approach dangerously close to the Florida First Coast and Southeast Georgia Coast Friday through Friday night into early Saturday morning.
When it comes to evacuations, the Intercoastal areas are the first to be ordered to evacuate. This includes the beaches and rivers.
2. Given the incremental westward trend in the model data, the range of possible impacts continue to amplify, and perhaps even become devastating if the storm makes landfall in or near our area.
This storm has shifted slightly to the west since Tuesday and forecasters say any wobble could be devastating for our area.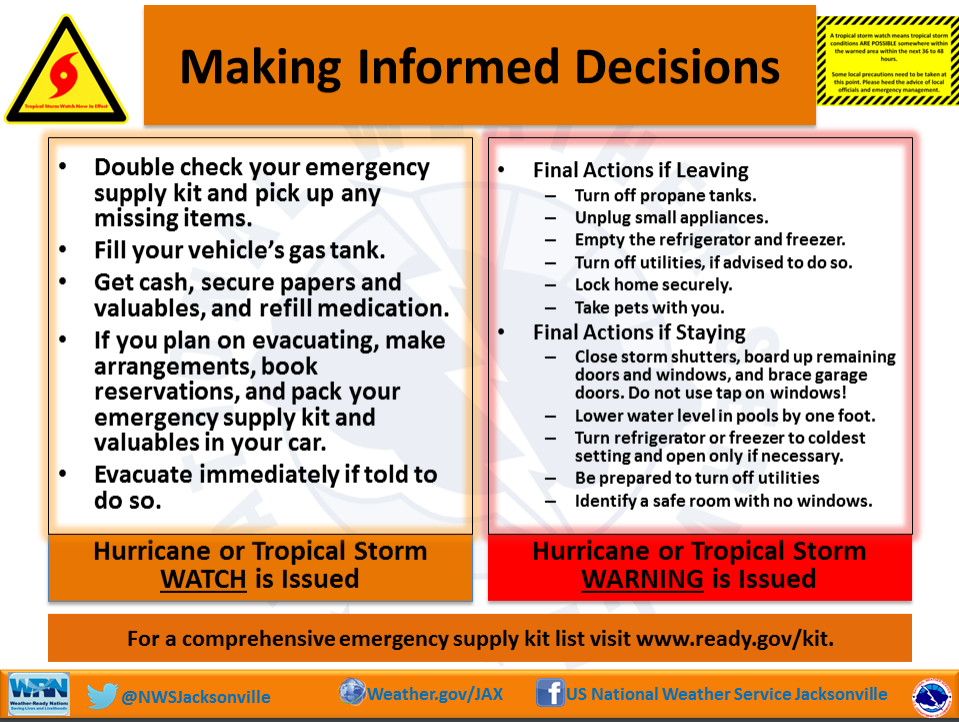 3. Destructive and even deadly coastal storm tide inundation in concert with high, destructive surf is likely to probable with Major Hurricane Matthew.
We are closely monitoring storm surges, any surge about 4 feet could affect people and road ways. The coastal areas are the areas we're monitoring.
Expected Coastal Impacts:
• Life Threatening Storm Surge is Possible.
• Large, Destructive surf.
• Dangerous, frequent rip currents.
• Significant beach erosion.

4. Preparations for the potential of a major hurricane passing near or over portions of the northeast Florida and Southeast Georgia coastline should continue. Residents and visitors are reminded once again to maintain a high level of situational awareness for the next few days.
5. By late Friday afternoon, Hurricane Matthew is anticipated to be just offshore of Palm Coast, FL. over our offshore waters between 40 and 60 nautical miles offshore of Palm Coast, forecasted winds are near 110 mph with gusts to 135 mph. If the track shifts west, hugging closer to the coast, these types of winds can realized closer to the nearshore waters and near the immediate coast. . Any, repeat ANY westward deviation could bring the eyewall of the hurricane over a portion of our coast. It is important to remain alert to the most recent information over the next couple days.