You'll have to hit the road to see the full splendor of the upcoming solar eclipse, but there still will be quite the show if you stay put in Florida.
There is no location in Florida where you'll see 100 percent of the sun obscured by the moon -- a total solar eclipse. You'll have to hop in the car and drive to South Carolina for the best and closest view.
However, a majority of the sun will be covered no matter where you live across the state on Monday, Aug. 21.
The farther northeast you travel, the more dramatic the sight: 90.5 percent of the sun will be covered in Jacksonville, while NASA's interactive map shows Pensacola will have 81.5 percent coverage.
Tampa will have 81.4 percent coverage and Sarasota with 79.2 percent -- check out this map for greater detail.
Remember this: hope for no clouds! You won't be able to see any part of the eclipse if the view is obstructed by cloud cover.
Eclipse forecast: Check 10Weather for the latest outlook on the 10News app
More: Fake solar eclipse glasses flood market; NASA recommends 5 brands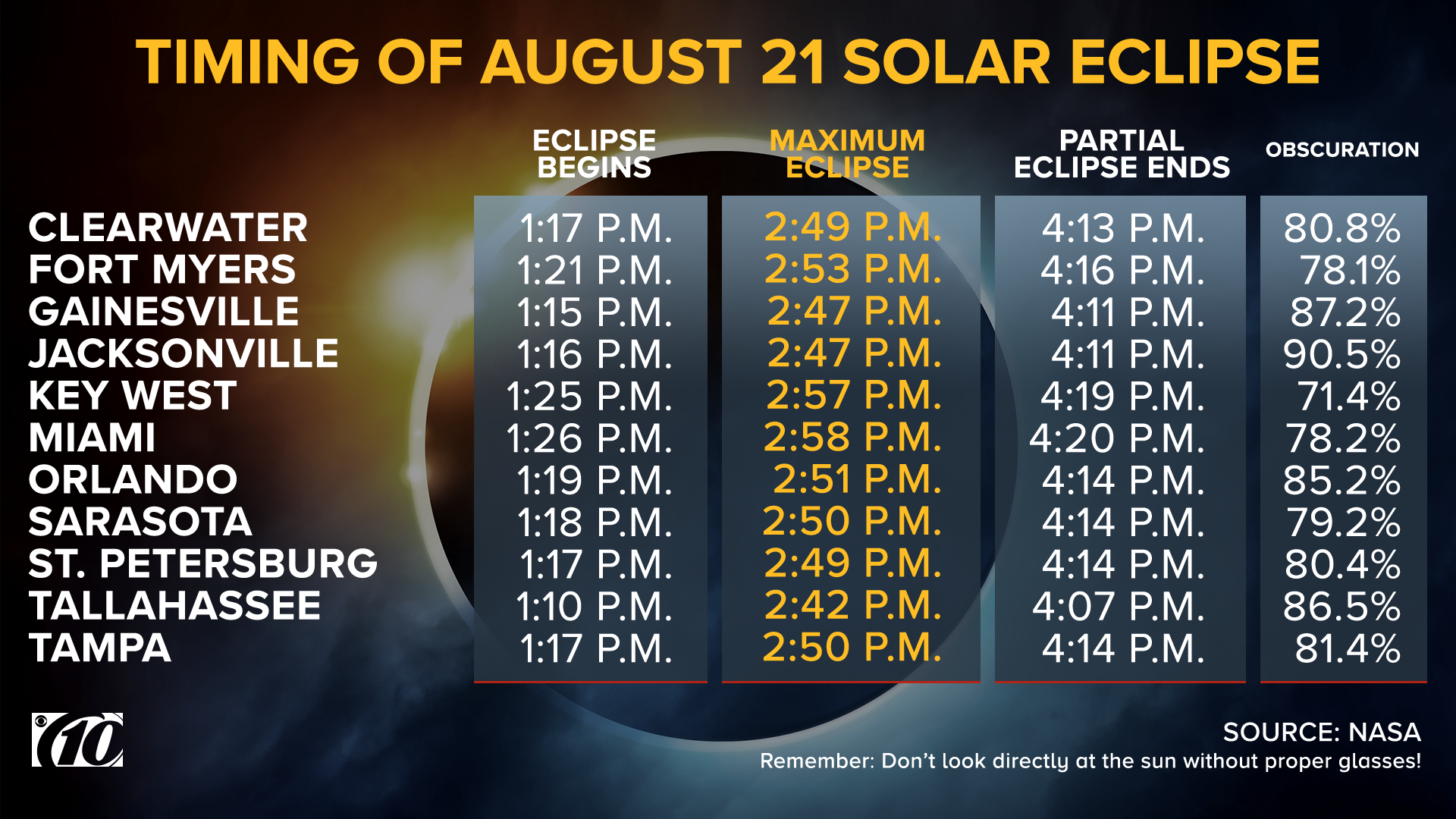 The eclipse, or first contact, begins in Jacksonville around 1:17 p.m. Take care looking at the sun no matter where you're watching; you should never, ever look directly into the sun without proper protection. Sunglasses, smoked glasses and other filters still will allow harmful radiation to reach your eyes.
Maximum 90.5 percent coverage is around 2:50 p.m. and the eclipse ends, with life returning to normal, at 4:14 p.m.