JACKSONVILLE, Fla. - Police resumed a search of the property where Russell Tillis once lived.
JSO said the police presence is part of a search warrant. Equipment parked overnight was guarded by officers in the Southside neighborhood off Bowden Circle.
Drone video captured Tuesday morning shows crews using excavators around the property, actively removing a concrete foundation, and clearing debris. The body of Joni Gunter was found by authorities on the property over a year before the current search.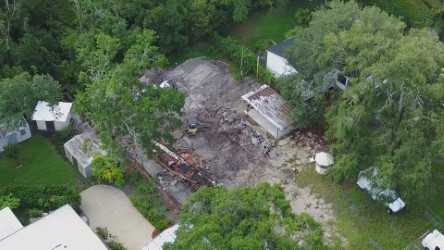 The search is expected to continue through Wednesday.
Former Jacksonville City Councilman Don Redman represented the district where the property is located and passed by Tuesday morning as crews were working.
"I'm glad they're coming back and digging some more because I really wouldn't be surprised if they didn't find something in the front yard of this place because he spent a lot of time messing around in the front yard," Redman said.
Tillis appeared in court Monday. He has stated in court that he wishes to represent himself in the upcoming murder trial.
READ MORE: Tillis announces he wants to represent himself in his murder trial