ST. JOHNS COUNTY, Fla. -- A Duval County man has been arrested and charged with three counts of attempted murder for a shooting incident in a Julington Creek parking lot.
Charles Michael Mohr, 22, got into an argument while driving along Racetrack Road.
The two cars pulled into the Atlantic Coast Bank's parking lot.
"It was at the driveway entrance of the bank," said Chuck Mulligan, St. Johns County Sheriff's Office spokesman.
Things escalated from there.
"They got into a physical confrontation," he said.
After the fight the drivers got back in their vehicles and circled the parking lot, that's when Mohr pulled his
weapon.
It was seven minutes after the first call to police about a disturbance.
"We heard at least ten shots," Jim Bagnardi said.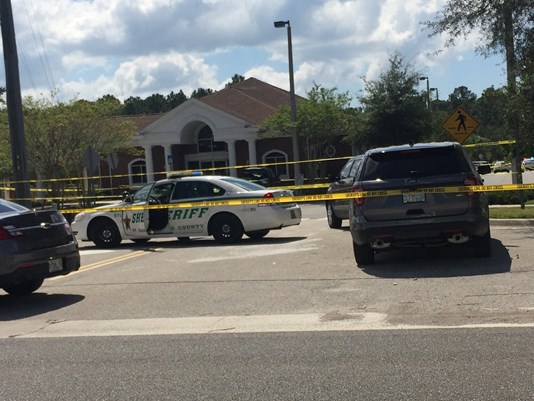 Bagnardi was in the shopping center and heard the shots and a cry for help from one of the cars.
"The windows were down and I heard a female's voice say I've been shot," he said.
Two people were shot, but they were able to drive themselves to Baptist South hospital.
Later in the day, they were transported from Baptist South to UF/Health where they're listed in critical condition.
The victims are Travis K. Averett, 21, of St. Johns and Aaliyah N. Green, 21, of Jacksonville.
After the shooting, Mohr pulled his gray Saturn to a parking space.
"He got out with a gun I told him to get on the gun without the gun," said Justin Louque.
Louque, the manager of the Tuffy Auto Service Center, saw him and held the suspect until police arrived.
"I had an employee get a gun just in case," he said, " then I held him until the police arrive which was very quick."
Louque said he is not a hero, he did what he hoped any good citizen would do.
"I just did instinctively what I thought anyone else would have done," he said.