The man fleeing a deputy who was struck and killed while running across a roadway back in November was sentenced to two years in prison followed by immediate deportation, the Department of Justice announced Monday.
Fransisco Obbidio Portillo-Fuentes, 26, was in the country illegally after already being deported twice. He was charged with felony reentry into the country after an incident that led to the death of a Nassau County deputy.
RELATED | Sheriff's office: Man who fled deputies in Yulee caught in Jacksonville
Eric Oliver, 32, was assisting a U.S. Border Patrol agent interviewing six people in Yulee, Florida when Portillo-Fuentes fled the law enforcement officers. Two officers gave chase, including Oliver, as the trio ran across State Road 200. Portillo-Fuentes and another officer made it across OK, but Oliver was struck and killed by a motorist.
The woman driving that vehicle stayed on the scene and cooperated with authorities during their investigation.
MORE INFO | Community to hold fundraiser for daughter of fallen Nassau deputy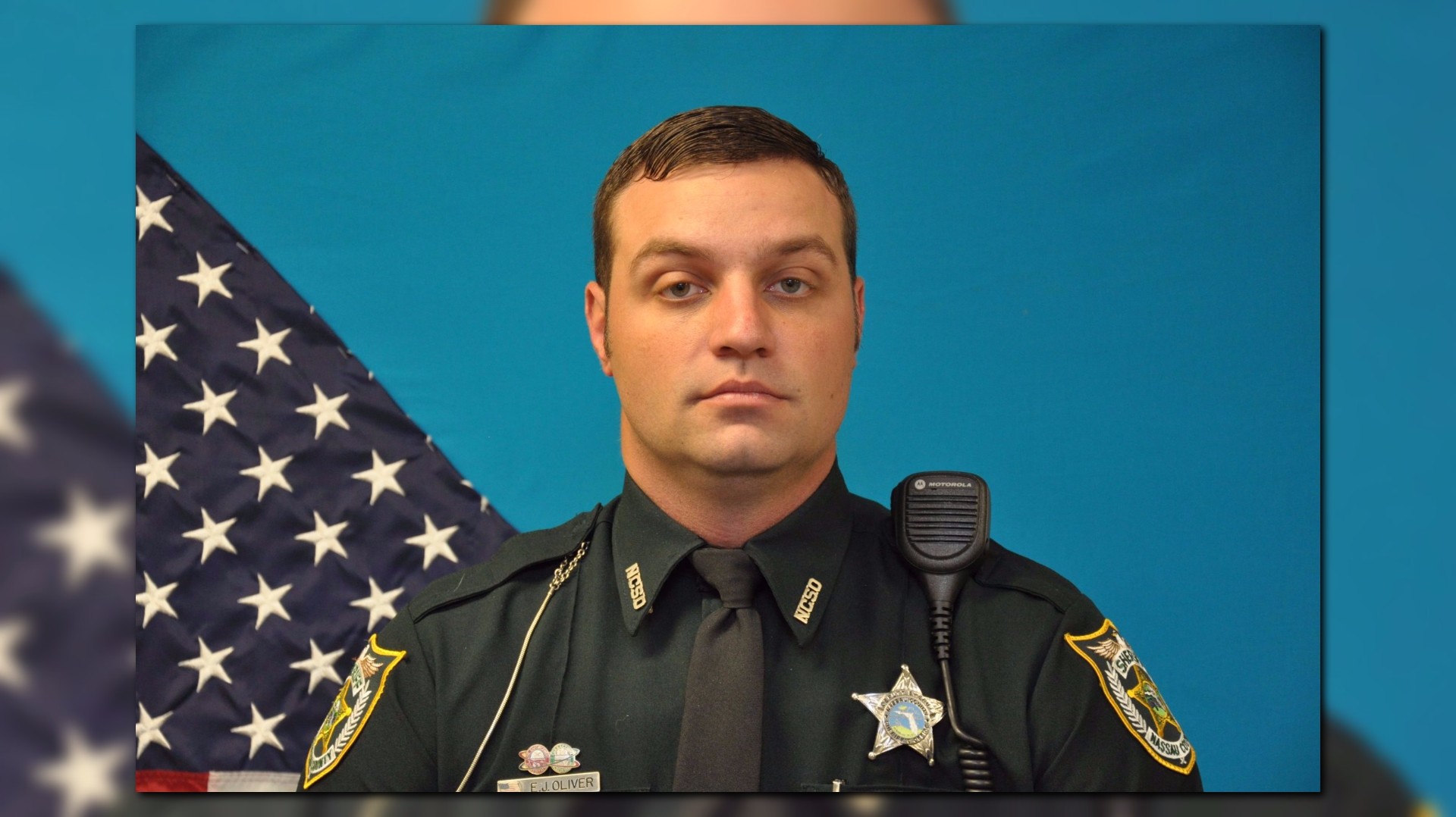 After Oliver died, the tight-knit community of Yulee came together to hold a fundraiser for his six-year-old daughter, Shelby. He also leaves behind his wife.
The community is raising funds to build a memorial for Oliver at the gas station where the original stop with the border patrol agent happened. If you would like to donate, head to this link.
Portillo-Fuentes was sentenced Monday at the federal courthouse in Jacksonville and will reside at a prison facility in Folkston, Georgia for the remainder of his two-year sentence.
His U.S.-born wife and kids will leave the country with him when he is released. The family told the Florida Times-Union they would move back to El Slavador.
Portillo-Fuentes' wife, Viviana Portillo broke down in tears when the verdict was read. Portillo said that she, along with her five children, will live with Portillo-Fuentes in his home of El Salvador when his prison sentence is over,
"I'm waiting to go to El Salvador with my husband, so that we can be a family again because I don't want him coming back over here," said Portillo.
The judge said Monday that Portillo-Fuentes chose to run across the 55 mile per hour road, rather than alongside, which intentionally put the deputy, as well as other drivers, in danger.
The judge also weighed Portillo-Fuentes' past deportations in 2011 and 2016 into her decision.
Portillo-Fuentes was deported twice: once for a domestic assault charge in 2011 and again in 2016 for a DUI.
"We're very pleased with the outcome today, with the judge, with the system, that's the max that we asked for and we got what we asked for," said Doug Oliver, father of Deputy Eric Oliver.
Deputy Oliver's father, Doug, spoke during Monday's sentencing. During court, he said Portillo-Fuentes had no regard for human life.
Doug Oliver said he lost not one, but two family members the day Eric died.
"We died twice that day. I lost my son and my granddaughter in the process. In this state, we don't have grandparental rights. My son was divorced from his wife and it's very hard to get in to see our granddaughter because they're keeping her away from us," said Doug Oliver.
Portillo said her husband promised that will not once again cross into the U.S. illegally once his sentence is complete.
"I feel sorry, my heart goes out to them (Oliver's family). If my husband could turn back time he wouldn't have done that," said Portillo.
A CLOSER LOOK | Deputy Eric Oliver touched many lives