LONDON — At least 12 people died in a massive fire that ripped through a 24-story apartment complex in west London early Wednesday, police said. The death toll was expected to rise.
Seventy-four people were injured and dozens were sent to five hospitals as a result of the blaze. At least 20 people were in a critical condition.
"Our thoughts are with everyone involved in this truly shocking fire at Grenfell Tower," said Metropolitan Police Commander Stuart Cundy. "I can confirm six fatalities at this time but this figure is likely to rise during what will be a complex recovery operation over a number of days."
London Fire Commissioner Dany Cotton told reporters: "This is an unprecedented incident. In my 29 years of being a firefighter I have never ever seen anything of this scale."
Cotton said she had "no idea" how many people were unaccounted for and urged residents who escaped the blaze to report to authorities so they could be listed as safe. Witnesses said some residents were missing and reported seeing people jumping from their apartments to escape the fire, according to the BBC.
The British broadcaster reported that 500 people lived in the apartment block, in the North Kensington area, which is near Notting Hill.
Samira Lamrani told Britain's Press Association news agency that she saw a woman drop a baby to safety from "the ninth or 10th floor."
"People were starting to appear at the windows, frantically banging and screaming," she said. "The windows were slightly ajar, a woman was gesturing that she was about to throw her baby and if somebody could catch her baby. Somebody did, a gentleman ran forward and managed to grab the baby."
Most of the building was engulfed in flames during the height of the blaze. The cause of the fire wasn't immediately known. The building was being monitored by structural engineers amid concerns it could collapse. There are 120 apartments in the building, which was constructed in 1974.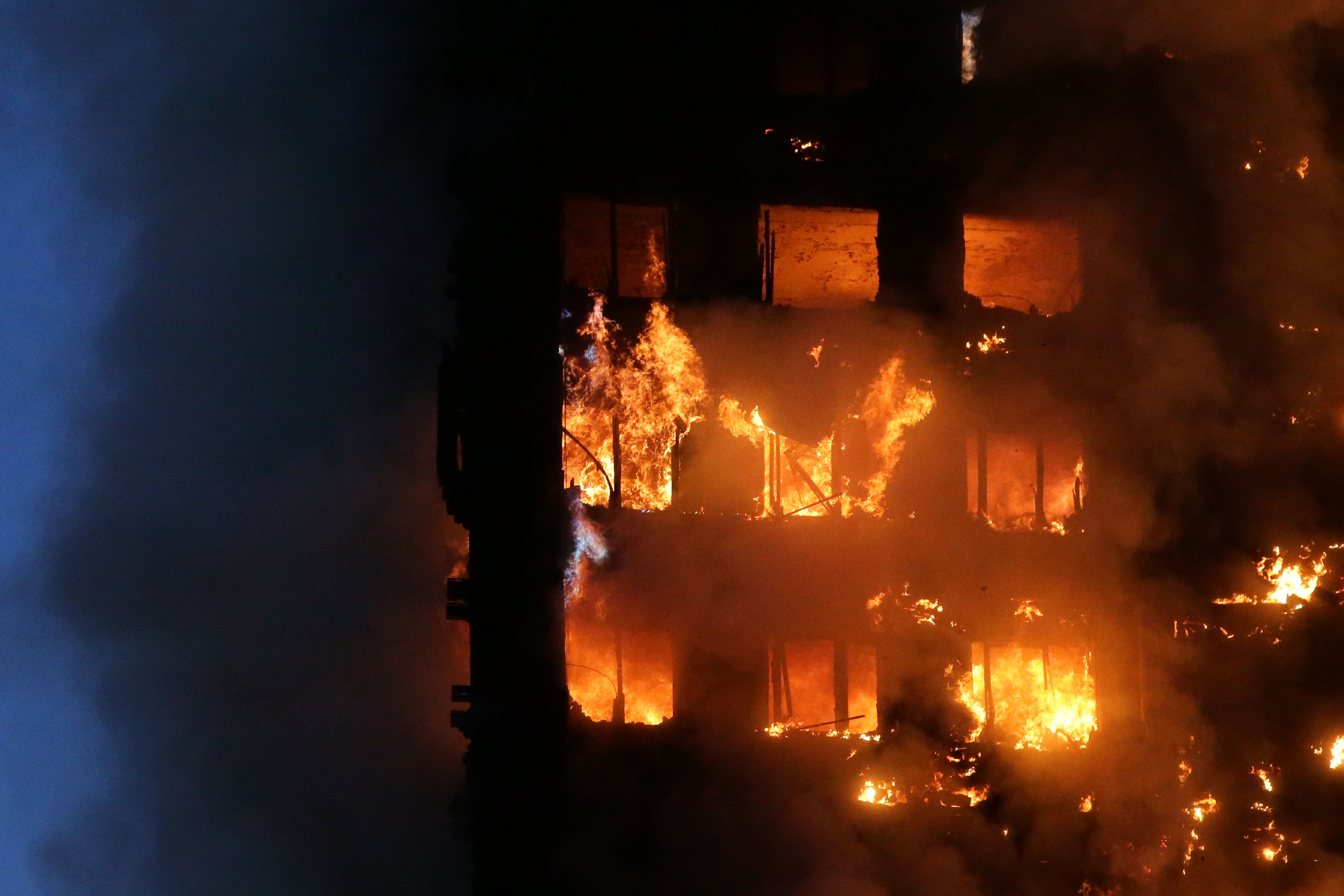 London Fire Brigade said 200 firefighters responded to the fire in the Grenfell Tower complex soon before 1 a.m. local time. Facebook activated its safety check feature during the incident.
"Our priority is to assess the level and nature of injuries and ensure those in the most need are treated first and taken to hospital," the London Ambulance Service service said. London Mayor Sadiq Khan tweeted that a major incident had been declared.
Prime Minister Theresa May said she was "deeply saddened" by the incident.
Forty fire engines were deployed to the scene and hours after the fire broke out, a plume of smoke was seen from miles away.
"I watched one person falling out, I watched another woman holding her baby out the window... hearing screams," Jody Martin, who was present during the chaos, told the BBC.
"I was yelling at everyone to get down and they were saying 'we can't leave our apartments, the smoke is too bad on the corridors.'"
Michael Paramaseevan, who lives on the seventh floor with his partner and young daughter, told the British broadcaster that he ignored official advice to stay in his apartment.
"If we had stayed in that flat, we would've perished. My gut instinct told me just to get the girls out. I wrapped the little one up because of the smoke and I just got them out," he said.
Witnesses who posted images on social media said that all the block's floors were filled with flames.
Residents were told to stay in their apartments in the event of fire, the Independent reported. "Thankfully residents didn't take that advice but fled," Mayor Khan said, according to the newspaper.
Some residents told reporters they did not hear any fire alarms when the blaze broke out.
"There will be a great many questions over the coming days as to the cause of this tragedy and I want to reassure Londoners that we will get all the answers," Khan said in a statement.