2017 is turning out to be a great year for beer here on the First Coast. Last week, Southern Swells Brewing released their first batch of beer. Wicked Barley Brewing released their beer to the market place and we talked about Hyperion's Grand Opening. This week, Atlantic Beach Brewing announces their Grand Opening in just a few weeks.
Atlantic Beach Brewing is located in the North Beach plaza on Atlantic Boulevard, just east of Royal Palm Drive. They will be opening their doors at Noon on Saturday May 6. Details about what they will have on tap and events are still pending. But mark that date!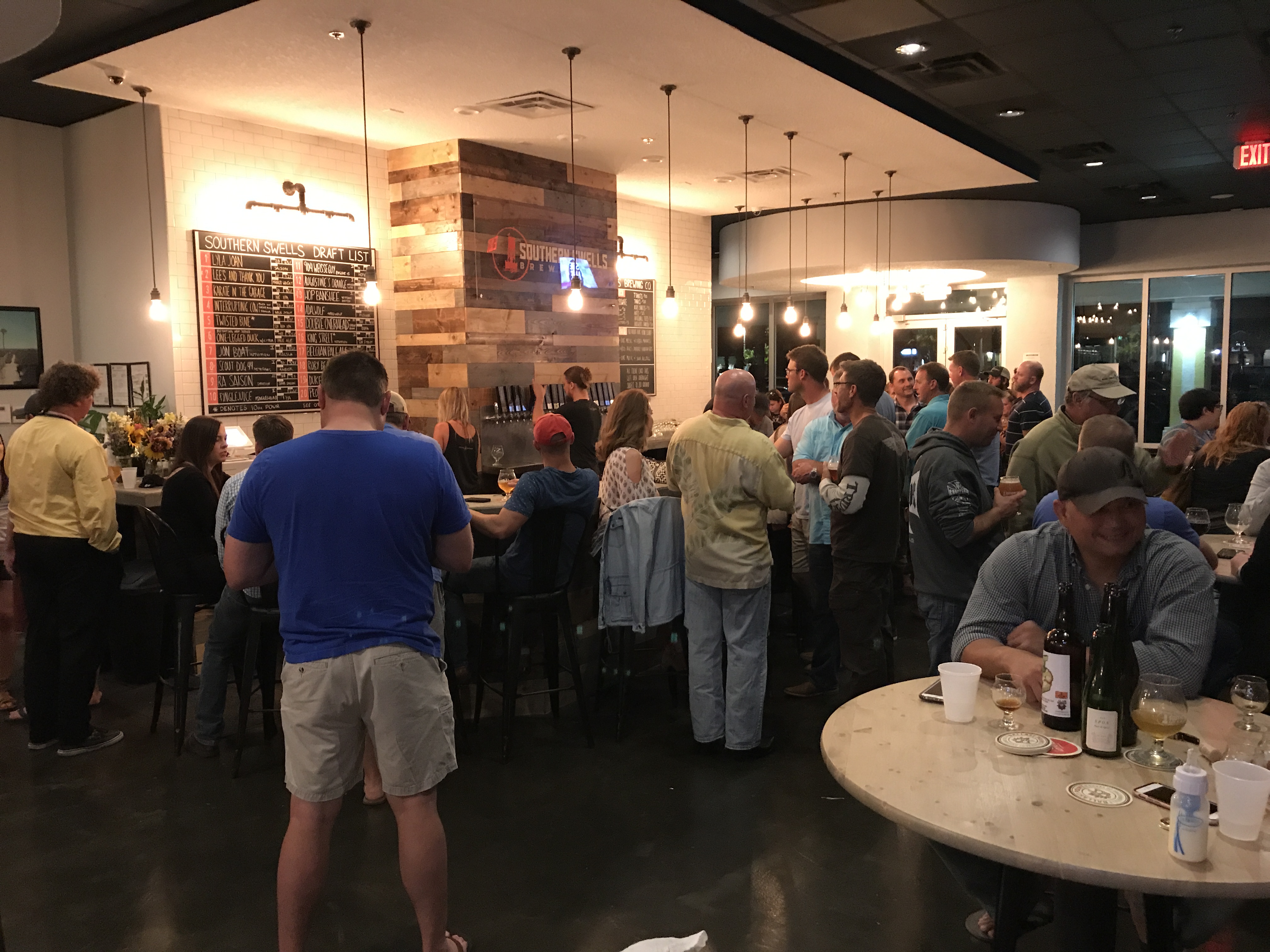 The Southern Swells Beer release party was a hit! It was a full house, but due to the large size of the place, it didn't feel packed, even with a large crowd. We sampled 3 of their offerings, Lyla Joan Saison, Interrupting Cow Milk Stout and Lee's and Thank You Pale Wheat Ale.
My favorite would have to be the Lee's and Thank You. This is seasonable ABV 5.2% wheat, slightly cloudy and fruity with the addition of Mango. Don't panic, the Mango is a pleasant undercurrent, Ed liked it and he doesn't like Mango, or so he says! It is a crisp beer, very well suited to the hot summer months.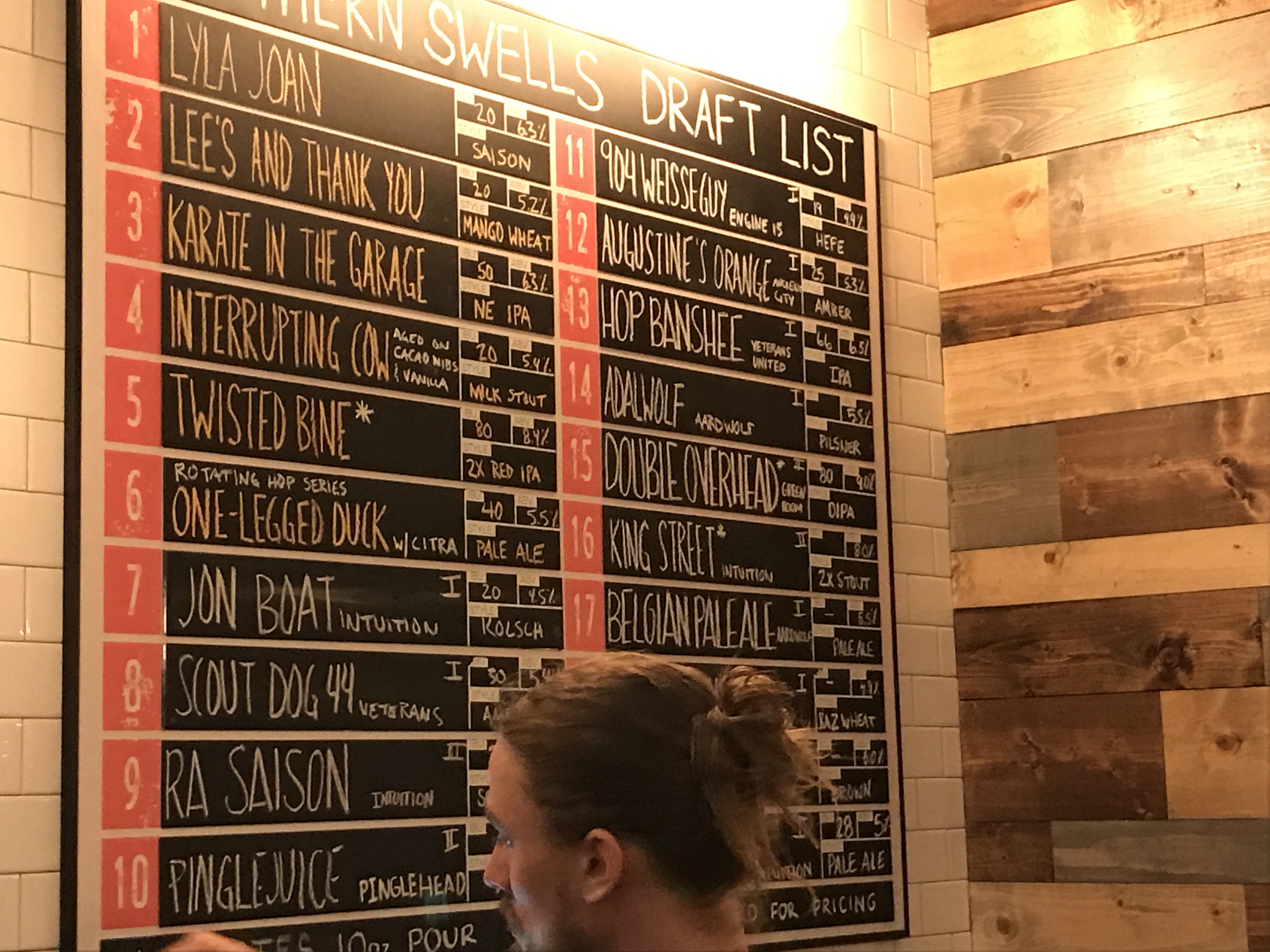 The Lyla Joan has a great farmhouse 'funk' to it. The ABV is 6.3%, but it drinks very easily. If you are a lover of hops this does carry those strong citrus notes. It's a good crossover, if you don't normally like Saisons you will probably like this one. If you already like them, you'll love this one.
Interruption Cow ABV 5.4% is aged on cocoa nibs and vanilla. I found it to be a pleasant bitter chocolate with the cocoa nibs upfront and in your face. There is a coffee type bitterness on the finish, that is not disagreeable. Ed loved this stout.
Currently, Southern Swells has 6 of their own brews on tap including a Pale Ale, an IPA and an Imperial Red IPA. Those three are on my radar for the next visit.
Brewz celebrated 1 year with style last week. Catered dinner from Mambo's Cuban Cafe, DJ, Games, and lots of yelling at the Masters on the TV!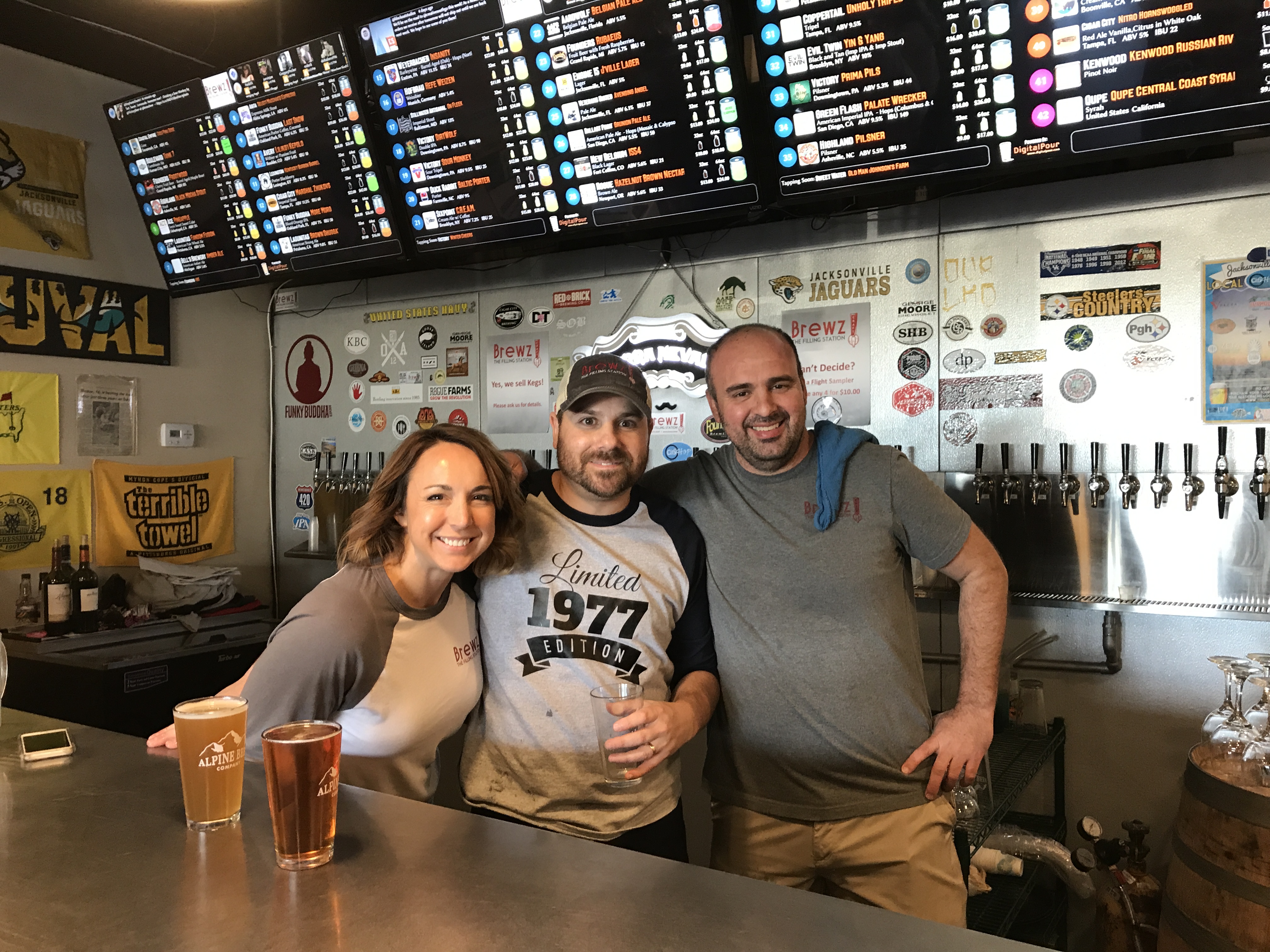 I hit a new beer there that knocked my socks off. Evil Twin Brewing Yin and Yang Black and Tan ABV 10%. It is a stout and an IPA. At first this really knocked me over. I noted the chocolate malty notes first, then the strong citrus of the hops came in. After a few sips, the flavors melded and it was very enjoyable. I was able to sample a Firestone Walker Cascadian IPA (Wookey Jack) a few months back and this was pretty close to that. The Evil Twin doesn't have the resinous qualities of FW, but was tasty in its own right. Ed liked mine so much, he ordered one of his own. At last check, this was still on tap at Brewz if you would like to try it.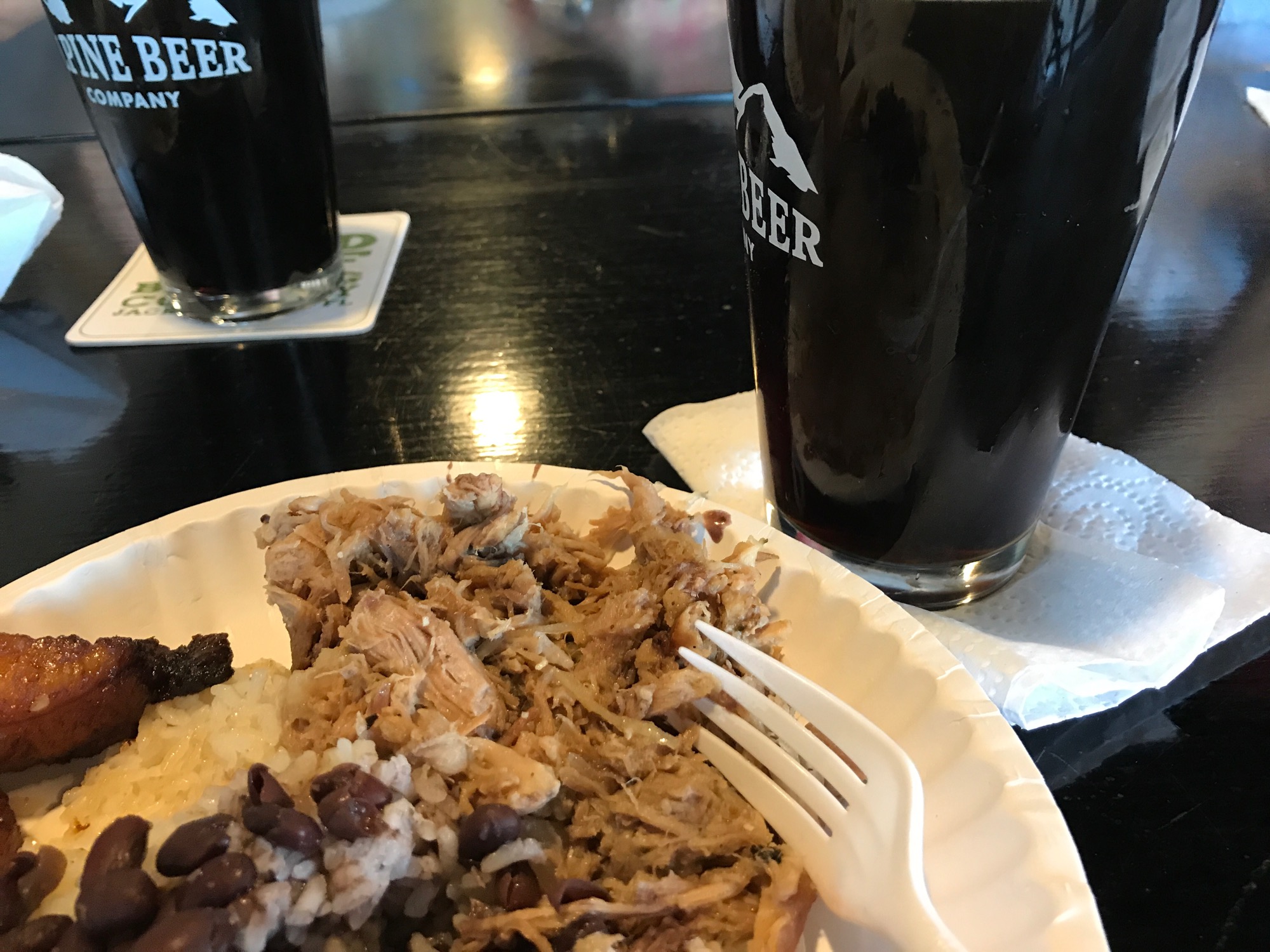 Around town at your favorite beer stores is Terrapin T-Time ABV 4% Berliner Weiss. I tried one while watching the Masters last weekend. The beer is inspired by an 'Arnold Palmer' Tea and Lemonade mix. I can catch hints of the tea, the tannic bitterness of unsweetened tea, but Lemon is the star in this beer. It is quite tart and very bright yellow. If you just drink it as a Berliner Weiss you will like it. If you are expecting a true Arnold Palmer, I think the tea party misses the point. However, I enjoyed this one as a great golf playing or pool playing beer.
EVENTS:
Saturday April 15 Wicked Barley hosts Kegs for a Cause. From 3 pm to 8 pm a portion of the beer garden receipts will go to "Live for Today" that helps young adults with Cancer live to the fullest. The event is hosted by the Ocean County Purveyors. There will be live music, games and prizes in Florida's Best Brewpub!
Tuesday April 18 Blackberry Farms Brewery Beer and Food paring at The Bread and Board on Oak Street, behind the 5 Point shopping district. (Basically behind Alewife and Hoptinger). This will be a 4 course picnic dinner paired with 8 of Blackberry Farms beer. Click on the link to get a ticket.
Thursday April 20 Southern Swells hosts Jack's Journey Fundraiser from 6 pm - 9pm. 10% of all Southern Swells beer will be donated to the family of this little 4 year old who suddenly contracted a very rare Neurological disorder. Carrabba's Italian Grille will be on site with an amazing food selection available for a donation.
Thursday April 20 Wicked Barley hosts Cruisin for a Brewsin, from 6:30 pm - 8:30 pm. 100% of ticket sales and silent auction items goes to the Local Multiple Sclerosis chapter. Tickets are $25 and included unlimited pours of Wicked Barley's most popular beers. For tickets please email Carolyn Graham.
Thursday April 20 St Augustine's Brewz N Dawgs is hosting Dawgs for Dogs featuring 81Bay Brewing. Proceeds will go to Feline Canopy of Care, Inc. Rescue organization. Good opportunity to try 81Bay who is new to us!
Thursday April 20 Intuition presents Dungeons & Dragons at Sun Ray Cinema. Get your battle plans ready! Drink Intuition beer, play D&D and watch fantasy movies at the same time! Tickets are $10. Oh did I mention that Underdark will be the beer on tap?
Friday April 21 Brewz hosts Long Island Bob Hotdog night from 6 pm - 9 pm. Come on out and drink some beer, the dogs are on the house.
Keep up with all the ever-changing beer events in town by following First Coast Brews on Facebook. If you have event or beer you'd like to share your notes on, email me or message me on Facebook.